The Marketing Research Foundation's (MRF) has announced that the latest iteration of MAPS (Marketing All Product Survey) data will be released on Monday, 31 July 2023. The media and advertising industry is invited to participate in a general release webinar on Thursday 3 August 2023.
The July release will once again deliver insights into a national survey of 20 000 interviews which includes insights into respondents' brand interaction across more than 3 376 brands.
The MRF's CEO, Johann Koster, emphasises the significance of this release as it presents a valuable chance to conduct a thorough analysis of two full calendar years. "This enables MAPS users to gain a plethora of valuable insights as we monitor evolving consumer behaviour, transitioning from the impact of Covid restrictions to the current economic downturn.
MAPS is the largest and most comprehensive consumer survey of its kind in South Africa and offers a holistic and detailed view of consumer behaviour across media, banking, insurance, clothing, groceries, alcohol and many more," confirms Koster, "What makes MAPS so relevant is that all data collected is from the same space and time, representing specific consumer and household views."
Space and time are very important considerations when consolidating consumer data. Consumer behaviour is largely a consequence of external factors and the environment within which consumption decisions are made. Consider how quickly consumer behaviour changed during and after the Covid pandemic. The subsequent economic downturn has ushered in a period of volatility and uncertainty for consumers, resulting in further shifts in behaviour. Consumers are adapting, re-prioritising, and making changes in their day to day lives and MAPS provides the unparalleled ability to track these changes over time.
"Marketers and agencies have found MAPS to be a powerful and strategic tool in its depth of sample, data diversity, frequency, scrutiny and all the processes that govern its implementation", concludes Koster. "In this regard MAPS is unequalled in its capacity to be a sole provider or used in combination with other data.
The MRF together with our partner Plus94 Research look forward to sharing this information with the industry on Thursday, 3 August 2023."
MAPS July Release Industry Webinar
When: Thursday, 3 August 2023
Time: 10:00
Where: Webinar (https://events.teams.microsoft.com/event/d7acaaa1-d85d-49dc-93e3-b0dee9fcde97@54694a3e-ea56-4bf8-bd2c-83bf1d910d45)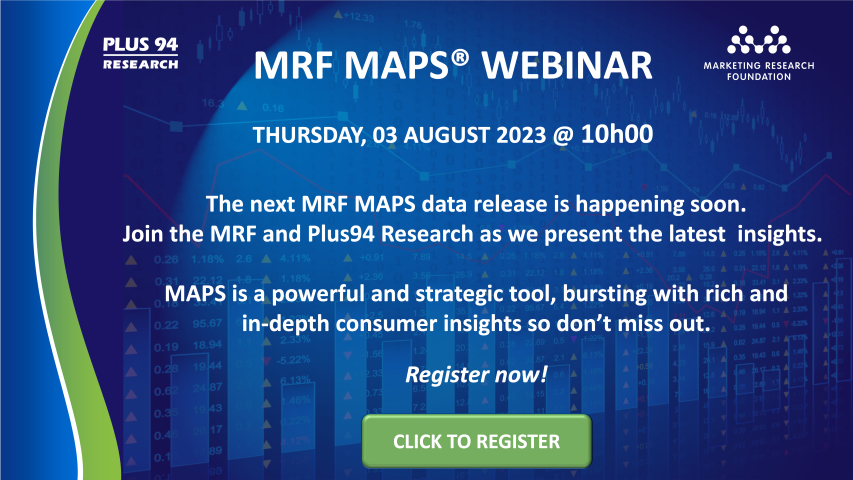 For additional information on MAPS – https://mrfsa.org.za/maps/
Social Media: Facebook – https://www.facebook.com/MRFSouthAfrica/
LinkedIn – https://www.linkedin.com/company/mrfsa
https://mrfsa.org.za/wp-content/uploads/2017/10/MRF-Logo-med-300x158.png
0
0
Jeanette Way
https://mrfsa.org.za/wp-content/uploads/2017/10/MRF-Logo-med-300x158.png
Jeanette Way
2023-07-26 11:37:33
2023-07-26 11:38:06
MAPS®, the latest data, to be released on 31 July 2023